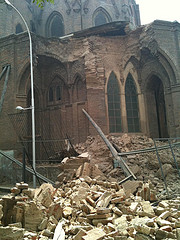 This weekend was the first time I can remember feeling a gnawing void in communication and a vested burn to get informed about a crisis. Social media came through in the clutch.
I lived and worked in Santiago, Chile as a freelance journalist from June 2008 to August 2009. From Rolando at the corner store, to co-workers at The Santiago Times and Revolver, to my furry housemate Leo (who loved to rummage through the fridge and take craps in the living room), every person I met and relationship I had, contributed to my unforgettable Chilean experience.
You can imagine my distress when I woke up to a text message Saturday morning that read, "Awful news in Chile."
A rush of faces, worry and possible explanations ran through my head as I jumped out of bed and raced down the stairs to see what was going on. I needed to know what the heck happened and that my friends were safe.
I didn't turn on the TV. I didn't turn on the radio. I didn't call my aunt, who sent the text message.
Without thinking, I opened up my laptop and checked Facebook and Twitter.
Within thirty seconds, I saw that #terremotoenchile was a trending topic on Twitter and read this on Facebook from a friend: "8.5 Earthquake about 345 am. Lasted about 2 minutes. Incredibly shaken up, lots of broken stuff. We are okay. Thanks for all the emails. Will update when possible. Communication is still a hit or miss right now."
And like that, I was informed.
I rushed to read more posts, check profiles, tweet updates and search for more information. Fortunately, I did not have to go far, and the panic gradually subsided.
"All fine over here! My friends and i got through the quake safely. I was dancing to the cure at a local club when it all happened!"
"Yo estoy bien Adam! Hablé con
[name of friend] también y estamos ok" (Translation: I am ok Adam! I spoke with [name of friend] also and we are ok)

"Hi everyone, we are really lucky and no major damage was done to my apartment or my being. I came home last night around 4am…Things started shaking, and I didn't think anything about it at first, but soon enough we were huddled under the bathroom sink!! Very scary! Thanks for worrying everyone, love you guys, let's hope everyone else is OK!"
"etamos vivos hueooooon!!!!! gracias por la preocupacion!" (Translation: we're alive dude!!!!! thanks for the worry!)

"If someone hears anything from my parents please send me a message." Followed by this, less than an hour later: "Mom and dad are ok… the house, not too sure."
"if anyone in Chile needs me to phone someone in the UK/mainland Europe, just let me know who and the number."
After about half an hour of exhausting Facebook, Twitter and Gmail chat, I finally turned on the TV and checked Google news for additional information. (Google News and Google Reader are usually the first two places I go when I log on.)
Aside from a few statistics, it was mostly old news to me. The video and photos added some color to the tragic picture, the weather center offered tsunami predictions and the fluid injured/missing/dead tallies did not shed much light.
So, I kept the TV on for background noise, the Google News tab open in my browser, and went back to social media. CNN, The New York Times and The Guardian may have served well to inform the masses, but my Facebook and Twitter channels provided the instant information I needed from the sources I cared about and trusted.
No newscast, newswire or newspaper could have replaced the tweets, comments and status updates I read on Saturday morning. And that is one of the many reasons why social media channels like Facebook and Twitter are not going anywhere.
If you are trying to contact a person in Chile and haven't been able to locate him/her, Google is providing this application that could help: http://chilepersonfinder.appspot.com/