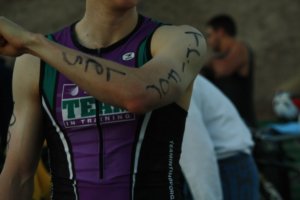 Twenty minutes before the start of the Bluewater Triathlon someone asked me, "So, what's your strategy?"
Barefoot, jittery, cold and nervous, I thought about it for a second, and proceeded to swing my arms around to loosen up.
"Dominate," I said with a smirk. "And pass on the left."
We both laughed, knowing full well that this was my first triathlon and that I was being somewhat sarcastic.
And even though a part of me wanted to dominate and pass as many people in the race as possible, another part of me stepped back to remember what this triathlon was really about.
My aunt, Leslie Whitfield, and the fight against cancer.
She lost a 19-year battle with breast cancer in February of this year. In celebration of her amazing life, and for everyone else who battles cancer every day, I joined Team in Training and pledged to raise $2,200 for the Leukemia & Lymphoma Society (LLS). I dubbed this triathlon, Tri for Les in her honor.
When I signed up four months ago, I was excited to be joining a team and trying something new. On the other hand this was my first fundraising effort of this magnitude and the pressure of meeting that minimum weighed on my mind.
But thanks to the generosity of friends, family and even strangers, I soon blew past my fundraising goal, raising a total of $2,785 for LLS. This overwhelming and inspirational support let me spend most of the time focused on training rather than fundraising.
And train I did.
On most weekdays my alarm buzzed me awake at 4:45am for bike rides around the city, swims at the YMCA, runs on the bridal path or other pre-dawn workouts. At first it was tough to acclimatize to the new schedule and physical demands, but after about a month I fed off of it. And hungered for more.
For four months I worked out six days a week, with a couple two-a-days sprinkled in every week for strength and agility training. When event weekend came, I was ready.
And as obsessive and compulsive as you'd expect me to be during the hours leading up to the triathlon…I was even more of a wreck than you could imagine. I had a dream, the night before the race, that I had forgotten my bike at home and had to run the 168 miles from Parker back to Phoenix to pick it up.
Can you say, "Anxiety?"
I spent most of the early morning fidgeting around with my gear and double, triple and quadruple checking that my bike was secured in the transition area. Once everything was accounted for, I pulled my wetsuit on, walked over to the starting location and dipped myself in the cool 74-degree water of the Colorado River.
After a few minutes of nervous small talk with the other racers, someone yelled, "Go!" and the mad dash was on. I plunged my face in the water and launched off the shore, mimicking the rush of the other swimmers with frantic slices and kicks.
This all-out sprint from the blocks turned out to be a minor mistake, in that I burned myself out by the time I arrived at the first of the three buoys marking the 1,000-meter (0.6-mile) course.
I floated on my back for a few seconds to catch my breath and spent this time reminding myself of the techniques I learned in training: smooth strokes; balanced breathing; straight, choppy kicks.
I rolled back over and kept swimming until I was finished, which took me 22:50.
When I got out of the water, my head felt like it was still submerged and my equilibrium was going haywire. I shuffled over to transition into bike mode, peeled off my wetsuit and, feeling extremely wobbly, sat down on the pavement to regain my bearings.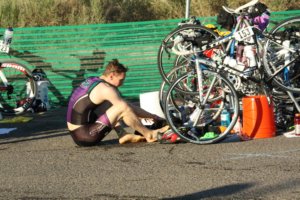 For some reason I felt it necessary to put my watch on first. But in my dazed state, the simple task of clasping it around my wrist proved daunting, and I spent a good 20 seconds figuring out how to work the surprisingly complex contraption.
My supporters were watching all of this from a few feet away. No doubt between their cheers of, "Go Adam!" and "Woo Hoo!" they were asking each other, "Why the hell is he taking so long to put on his watch?"
With the watch finally affixed, my bike shoes, helmet and other incidentals were a cinch to secure. This first transition took 3:18, before I was pedalling off for the 53-kilometer (33-mile) ride.
Even though the bike ride was the longest leg of the race, it was my favorite. The route followed the Colorado River, passing back and forth across the Arizona-California border with beautiful views of the morning desert landscape. It was hilly at parts – but nothing compared to Fountain Hills where we trained many a Saturday morning – and crossed over Parker Dam at the halfway point.
I pushed myself the whole ride, eating my nutrition and energy gels one-handed (a new feat for me), and forcing myself to drain both of my water bottles before the next transition.
When my legs started to relax a bit, I yelled at myself, "Don't let up!" and snapped them back in form to pound on the bike cranks. This message, to never let up, stuck with me through the rest of the race and into the days that followed. I hope it adheres to the rest of my life.
In 1:58:34, the ride was over and I was back at the transition area. I replaced my clip-in bike shoes with my faithful Converse All-Stars, swapped my helmet for a hat and sprayed on some sunscreen. This transition lasted 3:09 before I took off for the last leg: an 8-kilometer (5-mile) run.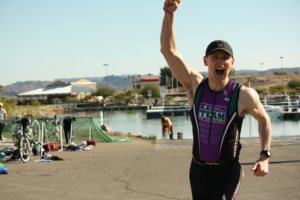 Running is my strongest sport and at this point, I was ready to let loose.
The slight dirt hill just out of transition gave my legs a jarring wake-up call, but soon I was running high, passing on the left and picturing the finish line. When I ran by the cantina near the hotel, I knew I was close and picked up the pace.
Next thing I realized I was sprinting blindly down the final straightaway to the finish line. During these last paces I wasn't thinking about what place I would finish or who I was beating. In fact, I wasn't thinking about myself or time at all.
Instead, I saw the faces of Leslie, my friends, family, supporters, teammates and coaches flash through my head and I crossed the finish line with a smile, a fist pump and 3:05:30.9 showing on the clock.
I kissed my girlfriend, high-fived my coaches and sat down to drink some water, stretch and think about what to do next.
A shower. A beer. Some lunch. Then start prepping for Lavaman!
Tri for Les didn't end when I completed the Bluewater Triathlon. It began.
---
Thank you to everyone for supporting the fight. Leslie never let up and fought every day with a smile on her face. We should all do the same.