"We have a way to make successes out of the unsuccessful. But first we have to be frank about a subject that we would all too often rather ignore." — Malcolm Gladwell in his book, Outliers
A city's reputation depends largely on two factors: the airport and downtown. — Jeff Speck (paraphrased), City Planner and author of Walkable City, speaking at the Urban Tactics Symposium as part of Phoenix Urban Design Week
When I finished the book, Walkable City by Jeff Speck, my head spun with ideas after his last chapter encouraged us to pick the winners in our cities: finding places where the least money can make the most difference.
Speck advises to focus on improving streets already formed by buildings, with the potential to attract and sustain street life. In essence, low-hanging fruit.
For example, we could put Central Avenue on a road diet and add bike lanes.* Maybe the missing teeth in the Roosevelt Row area could be filled with more art, community gardens, shaded meeting spaces, and fitness structures like pull-up bars. Or, perhaps Downtown could finally get an easily accessible grocery store. Combine that with more market-rate housing and you've got yourself some nice building blocks.
Originally, I intended this article to focus and elaborate on those ideas. I was going to pick a few areas in the city that were almost there, and explain the little projects that could be done to make them sustain street life. But not so fast.
First, I wanted to get a closer look at the City's planning process, and meet some of the folks involved in making these decisions on the back end.
I attended a My Plan Phx meeting (a public-engagement initiative by the City of Phoenix) and the Urban Tactics Symposium (which featured a keynote by Jeff Speck, to my delight, as part of Phoenix Urban Design Week).
A colleague also sent me an enlightening series of articles by John Talton of Rogue Columnist: Phoenix 101 – What Killed Downtown. Talton gives an excellent perspective on the Valley's DNA and I highly recommend you take the time to read all three articles.
Now, attending a couple meetings and reading a book and a few articles doesn't take the place of an education in city planning, experience in urban design or political influence. Admittedly, I'm thin-slicing. And as a native Phoenician and resident, I'm approaching the issue with a self-serving agenda. So, if you disagree, know more than me, or have information that either supports or refutes the points in this post, please share them (respectfully of course)! I'm not writing this because I like to rant. Rather, I genuinely want to learn about, discuss and improve my city.
However, I do find advantages to approaching these meetings, presentations and discussions as an outsider. I asked a lot of questions (some of which were probably covered in City Planning 101) and met some really passionate, interesting people from various backgrounds. I wasn't influenced by making impressions, professional networking or influencing a my grade or career path.
But before we talk about my summary of the salient factors in developing the urban core Phoenix so desperately needs, we need to discuss the overarching theme I saw in every meeting, analysis and discussion: to to truly fix the core, Phoenix needs to address its core problems that continue to cripple Downtown. And it won't be easy, fast or simple.
That's why I'm not going to expand on my Urban Triage ideas. From what I've seen, low-hanging-fruit projects that put little Walkable dents into our problem is already covered.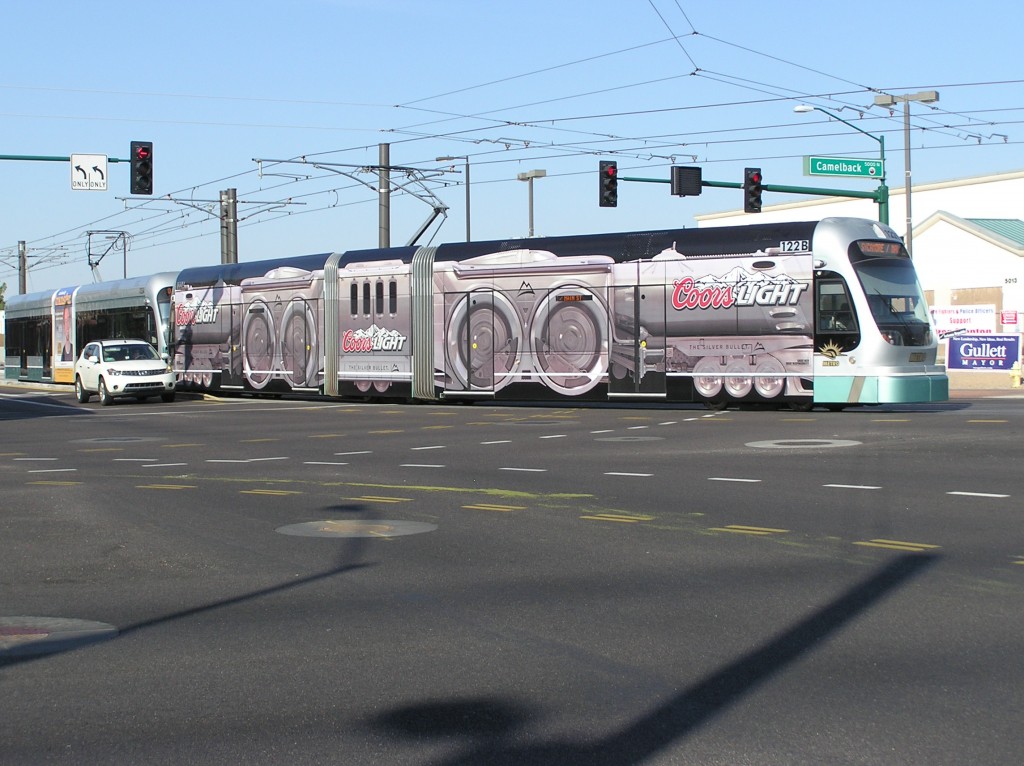 We have nice establishments like LGO and Fox Restaurant Concepts restaurants, along with Roosevelt Row, and City Scape, and the Diamondbacks and Suns and ASU, and the Light Rail. But to me, for all the benefits these assets offer – they also remind me of the problems we don't seem to be facing. For example:
Roosevelt Row: First Fridays (and Third Fridays) are great, but they're only once a month. What about the rest of the time? And the Roosevelt Point apartments look nice, but they're for ASU students (who will throw up the deuces in a couple years). Plus, Roosevelt Point brings with it another quintessential Phoenix landscape eyesore: a blank-faced, multi-level parking garage.
CityScape: Arrogant Butcher, Palomar Hotel and the offices are nice – but why do we have an ugly CVS Pharmacy smack dab on the corner, and no grocery store nearby?
Light Rail: It goes slower than a car, stops more than a car, must adhere to the same street signals as a car, and is plastered with advertisements. No beauty. Little convenience. And less incentive for people to ditch their vehicles. Plus, the line attempts to bridge opposite ends of the Valley – which is futile (See the sprawling Dallas Area Rapid Transit Light Rail) – instead of focusing on strengthening the urban core first.
Suns and Diamondbacks: When walking to one of these venues, on one side you see digital advertisements in every public space imaginable, like real-life pop-up ads; and on the other massive parking structures decorated with even more billboards. I understand that we can't avoid commercials altogether, but can't we strike some balance between visual pollution and city charm?**
These examples lead us into my list of core problems (or questions) we need to address as a city. None of these are novel or groundbreaking concepts. Nor am I claiming that they're comprehensive or accompanied with many actionable solutions. My point is that they need to be addressed. Or are they so ingrained that working to fix is futile? (Not a rhetorical question.) Here we go:
The core issues to fixing Phoenix
(in no particular order)
Leadership:
With Downtown divided among multiple districts, and City Council representatives required to work for both suburban and urban constituents – how can there be any continuous, unified fight for urban development? Without genuine political and financial support, I'm afraid this Walkable movement is spinning its wheels (pun intended). The passionate minority will keep fighting the good fight and making dents – but it'll still be a lot of preaching to the choir. The CIty will keep conducting studies, gathering community feedback and spending hours formulating plans and organizing research. But I argue: urban designers and planners already know what works. In fact they learned the key concepts a long time ago. Our City leadership needs to be honest, get over the progress that's already been made downtown (it has improved over the past ten years), stop looking for quick fixes, and spend the time and money to put these Walkable principles into practice both on the streets, and in the offices at City Hall.
Culture:
Is the city's sprawling, auto-centric, big-house, strip-mall culture too strong and ingrained to allow an urban lifestyle? I worry most feel the answer is, Yes. Still, some people don't realize what they want, until they're given it. I didn't know I liked the Walkable lifestyle until I traveled to cities where it was the norm. The concept of an urban core in Phoenix needs to be branded, marketed and made glaringly attractive. And I'm not talking about an advertising campaign or a microsite, either. Instead, the city's actions need to most of the talking – rather singing – to show how much benefit (for everyone) a vibrant urban core provides.
Businesses:
Why does it seem so difficult for quality, local restaurants, bars, shops and cafes to survive downtown? We should be making it as easy and enticing as possible for business owners, community connectors and entrepreneurs to open up shop and thrive. Currently, it feels like you have to be a political, industry or community heavyweight to have sustainable success downtown.
Density:
Why is there such a lack of market-rate housing and convenient lifestyle amenities downtown? Yes, some people live downtown – and like living downtown – but not many. And most of them are students, or are lucky enough to work nearby. We must take care of the downtown mavens and make these people happier with more housing options, grocery stores, bike lanes, filled empty lots and fun public spaces. Their friends will see how happy they are and will want to join them. The big battle here, is with history. Development should have been contained to the downtown area decades ago. Is there a way to recreate that effect today? (Again, not a rhetorical question. I genuinely have no idea.)
There's no shortage of whining about Phoenix's lack of a Downtown core and identity. And I hope this article doesn't come across as just another know-it-all, Debbie Downer complaining about the problem and taking shots at Phoenix without providing anything actionable or constructive.
Phoenix is my home, has come a long way and boasts great climate, people, landscapes, recreation and opportunities. I'm not aiming to tear it down with negativity and insults. Instead, I'm hoping to be one of many helping to stand the city in front of a mirror and build up it's character from the core out.
---
*Reducing Central Avenue to two lanes and a turning lane, and adding bike lanes, from Dunlap all the way through Downtown will slow traffic, increase walkability, make it easier to access the Light Rail and make one of Phoenix's most historic and iconic streets all that more beautiful and active. I presented this idea to one of the City's employees and received the following four points of feedback: 1: rush hour is a barrier; 2: there's already been a proposal for something like that, but it's unclear where that landed; 3) budget will be a factor, since we'll need to strip paint, then repaint, etc; 4: politics tend to get in the way. After thinking about it, here are my responses to those points: 1: Central Avenue is not exactly a pressure release valve for rush hour. It's already clogged up, especially with the Light Rail. Let's funnel cars to 7th St, 7th Ave. and the freeways, like we do already, and make Central Ave. an easy, pleasant thoroughfare for alternative forms of transportation (bus, bike, walk, light rail). 2: So I'm not alone in this thinking. Good. Find that proposal and let's get it moving. 3: Walkability is worth the investment. 4: Disappointing, but clearly the core of our problem.
**I asked Jeff Speck for his thoughts on ubiquitous billboards, and what they say about a city. His answer: they're a sign of corrupt state leadership.