140.6 miles, 13.5 hours and one of the best days of my life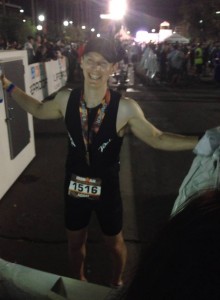 "Adam Fuller, you are an Ironman!"
I had been working hard – training, stretching, studying and strategizing – for a year to hear that phrase announced over the loudspeakers at Ironman Arizona on Nov. 17, 2013.
As I plowed through the 2.4-mile swim, 112-mile bike ride and 26.2-mile run, there were many times when I heard it pop-up in my head to keep me moving and motivated.
But when I turned down the final straightaway chute and sprinted to the finish line, I was in such an ecstatic frenzy to finish strong that I didn't even hear Mike Reilly – the voice of Ironman – yell out my name as the latest member of the exclusive club.
And you know what? That makes me even prouder of the accomplishment.
Finishing strong at Ironman Arizona was the big goal in my Awesome Bucket v2013 and I'm elated to have conquered my "one thing."
Adam's Ironman Arizona 2013 race stats:
Swim: 01:24:42
Bike: 06:25:45
Run: 05:25:29
Overall time 13:30:18
Thank you to everyone for all the support throughout this journey.
One of the most beneficial aspects about pursuing this goal has been maintaining a blog at TriforLes.com and documenting the process with articles on training, strategy, race reports and lessons learned.
Here are my most recent Tri for Les articles from the weeks leading up to the race.