My guide to make the most of a W.P. Carey MBA
The MBA journey began with an arduous application process. Then, it officially launched with an inspiring first semester and a busy first year. Now, after two tough years that kinda flew by, I finished strong, graduated and celebrated with a two-week trip to China.
I've said it a million times, but getting my MBA is already one of the best decisions I've ever made, and one of my proudest accomplishments .
It's right up there with becoming an Ironman, and hitting a home run (opposite field) in the top of the ninth in the sixth grade little league All Star game (even though we went on to lose in the bottom of the ninth thanks to a walk-off home run, soon after my moment in the sun).
Many people encouraged and supported me throughout this grueling adventure. Now that it's over, I want to thank them for motivating me to make the most out this experience. As you'll see below, one of my biggest lessons has been that yes, you can do great things on your own – but you can do much greater things by working with, and helping, others.
You, along with many friends, family members, professors and colleagues helped make my MBA a transformative experience that I hope to always build upon, and never forget.
To pay it forward, I put together the group of lists below as a way to 1) help other MBA students get the most out of  their experience, and 2) to endorse the W.P. Carey School of Business evening MBA program.
Congratulations to the ASU MBA class of 2016, good luck to those who are still on that MBA grind, and thank you to everyone following along.
Alright, let's get into some key synergistic value-adding insights to create collaborative blue ocean core competencies for comparative and competitive advantage.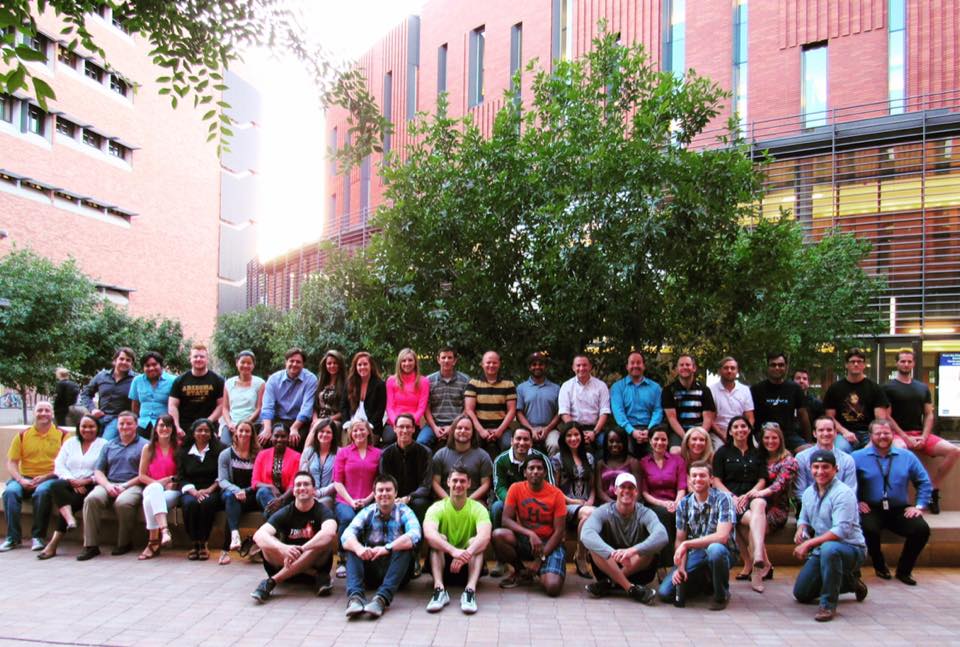 Three electives everyone should take
For many students an emphasis track (e.g. Finance, Leadership, Marketing, Supply Chain, Healthcare, Entrepreneurship) guides elective course decisions. However, after you complete the three required courses to secure the associated concentration, you may have the opportunity to pick from classes in different areas. Irrelevant of your emphasis, I highly recommend finding a way to fit these three electives into your class schedule at some point along the way.
Investment Strategies: The toughest class I took in the program but also the best. It brought together everything from economics, accounting and finance, in a way that made you master the mathematical and academic fundamentals, and also apply them to cases and current events.
International Finance: The precursor to the Investment Strategies (above), this class was primarily case-based, and a great way to dig deeper into many of the Economics concepts from core courses.
Becoming Leaders Who Matter: If you take the "fluffy" topic seriously and put in the work to connect leadership principles with your own experiences, you'll become a better manager, leader and person after taking this class. I frequently reference course assignments and papers – especially the Leadership Guidebook, which serves as a functional deep dive into your values, strengths, weaknesses and perspective on the future. This class should be part of  the core curriculum.
Top three core courses
Managerial Accounting: I walked out of these classes almost every night with my mind blown. And if you're lucky enough to have Michael Matejka as your professor, the class will be engaging and clearly organized. I couldn't help but find applications of these concepts immediately.
Microeconomics: I love learning about Economics – once it clicks, it's so simple and clear.
Macroeconomics: I love learning about Economics – especially international trade, and the Great Recession.
Useful tools and resources
Junkyard time: 10pm – 12am after classes. When you can muster up the energy, use this time to crank out the "functional" tasks – like summarizing notes, sending emails, or re-doing practice problems – that don't require a totally clear head. This lets you spend the time when your head is clearer to focus on the tougher, "conceptual" tasks.
Meditation: No matter how crappy I felt, I started most days with about 10 minutes of breathing exercises and meditation. After that, if everything else goes wrong that day, at least you got one thing right.
All the great things I mentioned in my Halfway to an MBA article: Google Docs, Slides, Hangouts; Proximity and that sweet sweet coffee.
One thing I would do differently
This sounds like a humble brag – and I guess it is to some degree – but I still have a bad taste in my mouth from the B+ I got in Supply Chain Management. It was my only B over the two-year MBA program, and it could have been avoided if I had sucked it up and submitted an extra credit assignment. Instead, I dismissed the opportunity, deciding my full plate couldn't handle another project. Aside from shattering my dreams of getting straight A's, this B+ turned out to be the pivotal grade that held my cumulative GPA just under 4.0. I wish I would have pushed myself to the brink and submitted that extra credit in SCM.
Three pitfalls
Quarters 5 and 7: You're exhausted and it won't let up. Beware of easy mistakes and bouts of frustration during this time frame.
First two weeks of every course: I was always slow to get rolling after a transition. Try to hit the ground running and focus on getting out in front of as much as you can. This is especially important when your courses are only seven weeks long.
Reading concepts vs practicing exercises: For quantitative concepts to stick with me I need to take pen to paper and complete practice problems and exercises over and over again. Reading and re-reading the concepts in the textbook is almost a waste of time.

Three things I miss
The camaraderie: Working on team projects and getting to know my classmates were some of the best parts of the MBA experience. Everyone was pretty much in the same stressful boat – we were all suffering to varying degrees – and these types of grind-it-out journeys create a supportive environment and lasting bond.
Diversity: Along the same lines, the diversity of personalities, backgrounds, expertise and ideas found in the classroom is tough to find anywhere else. Now that classes are over, I remember how much work it takes to incorporate diversity into your processes – in Phoenix at least.
Economics classes: Aside from Marketplace, Planet Money and Marginal Revolution, I don't have a natural exposure to, or inclination for, economics news and concepts. However, some of my favorite and most successful courses through this program related to Economics and I miss being forced to dig in and study this topic so intensely. If you have any suggestions for new ways to continue learning and practicing economics concepts, I'm all ears.
Three things I don't miss
Unhealthy, sleepless schedule: Most nights I studied until 12:30am and propped myself up the next morning with my sweet sweet coffee.
Exams: I forgot what it's like to stress before exams, which can often dictate a large chunk of your grade for the course. On top of that, these exams were not fun – many of them beat you down for four hours on a Saturday. That being said, the GMAT – which I took twice on my road to the MBA – still holds the title for most stressful exam.
Blackboard discussion forums: Sometimes class participation involved posting commentary in online discussion forums through ASU's cumbersome and clunky blackboard platform. This online exercise became redundant, trivial and time consuming. It pales in comparison to in-class discussions and is one of the primary reasons I recommend the evening, in-class MBA program to the online.
Three big takeaways
In my first-semester recap, I shared 10 tips I'd learned one quarter of the way into the process. Those tips will still help you make the most of your MBA experience; however, they're pretty tactical. From a broader perspective, I put together the following three big takeaways that revealed themselves many times over and stuck with me well after the last classes were completed. You don't need an MBA to learn or appreciate these takeaways, but the experience and practice transforms them from abstract concepts into sticky principles.
The best leaders genuinely care about people and their success. Notice, I did not say you have to be an extrovert or a people person. In fact, you don't even have to like people. You do, however, have to work with people. And the ability to connect, inspire and support others separates leaders from managers, stars from high performers, the best from the rest. There are many brilliant people who will lead successful lives without focusing on people. As much as they accomplish, these people could do more and go further by learning to prioritize people, and the often ignored "soft skills."
Complexity is easy; simplicity is difficult. MBA courses dump on you mounds of data, sprawling presentations, dense textbooks and rambling case studies. Then, you are asked to sift through the noise, find the stuff that matters and present your insights. I found this process to incorporate generally four phases: 1) consumption, 2) interpretation, 3) prioritization and 4) organization. We're all pretty good at reading and making sense of the material (i.e. the first two steps). But then, we usually skip step three and go straight to the PowerPoint and organizing all that work into bulleted lists. The result: a bland, disjointed presentation (or paper) that makes the audience work just as hard to figure out what you're talking about and why it matters. Even though this complex, easy route still takes a ton of effort, whittling it all down into simple, relevant messages is the toughest and most important step. It requires you to shift to an outsider's perspective, dissect your work and cut out the stuff that doesn't matter – this is especially tough when you (or a teammate) has spent so much time on those sections that end up on the cutting room floor. For me, the best way to keep this grueling practice top of mind is by writing concise and conversational copy. I try to delete jargon, acronyms and empty, stuffy, buzz words that have been used so much that they've lost their meaning.
Getting your MBA is a grind; find a way to lighten things up and have some fun with your work. This doesn't mean skipping responsibilities or wasting time. Rather, I got the most out of assignments in which I was able to embed a joke or two while still satisfying all the requirements. Sometimes you might not have the opportunity. But try looking for amusing businesses to study, off-beat images for presentations or even a couple basic pop-culture references to keep the audience (or reader) awake. I like to think these tweaks – subtle as they may be – make the process more enjoyable for everyone involved.