Every group has that one quirky person that gets messed with and laughed at constantly. Think Johnny Drama from Entourage or Milhouse from the Simpsons. Despite all the jokes, put-downs and abuse, this quintessential role player rarely gets upset and remains content, rolling with the punches and accepted among the pack.
What is fascinating about this person is that as much crap as they take, they are a pillar of the group's structure and are sorely missed when they are gone. Think about the times when that fall-guy is absent from your group. When the jokester at the office goes on vacation. When the dorky kid at the lunch table is home sick. What happens? Things go way off kilter and the group does not function as it should. There are lulls in conversations, awkward pauses, few jokes and no zen.
In my family the quirky, lovable, blunt of our jokes was Ginger: our golden retriever lab mutt. She was the oldest dog of four in our pack, had one eye removed due to a tumor, part of her liver removed due to another ailment and had been through a lot in her 15 years.
As a puppy she was tied up in blankets, dunked under water and given batteries to lick. We put peanut butter on her nose and laughed hysterically at how long it would take her to lick it all off. And you know what? She loved every minute of it, relishing in her role.
Ginger, who also went by Gin-Gin, Geebye, YanYaWooz, Coorglios and Girgenhelper, loved chasing leaves when she went swimming and barking at planes flying overhead.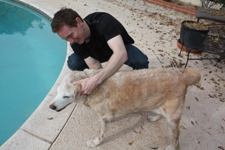 When she got excited, she would smile and show her teeth, shake her behind and bury her head in her front paws, almost out of embarrassment for being so excited. She loved being scratched (as most dogs do) and meeting new people. But the irony was that given how excited she got and the amount of fur she shed, most people hesitated before petting her.
Once you dug in though, she let you know she liked it. Groaning, twisting, wagging, nudging for more…she remains to this day the best dog to scratch behind the ears I have ever met.
On March 6, 2010 we had to put Ginger down.
The old age, arthritis and osteosarcoma in her leg took their toll. She was in bad shape for about two weeks before she broke her infected leg on a routine misstep in the middle of the night. The doctors said that she would not have been a good candidate for amputation or chemotherapy.
This was the first time we had had to pull the plug on one of our pups and it was one of the most painful and difficult experiences our family has gone through in a very long time. But as gut wrenching as it was, when I think about how she went out, I cannot help but smile because it went right along with how Ginger did everything else in her life.
Prior to Ginger's departure, my brother and sister, who live out of state, came back home for the weekend. We knew the end was getting near and they wanted to see her in case something happened. When Ginger's leg broke, it was only hours after we were all back together. Like she knew the pack was complete again and the time was right for her to go. Her exit was also her most beautiful act: she brought the pack together one last time, to say goodbye.
So today, take note and give thanks to the Ginger in your pack. Buy your buddy a beer in between insults. Take the office spaz out to lunch. Or, just give that funny, tail-wagging, fur-shedding family member an extra cookie and a nice scratch behind the ears to let her know how much she means to you.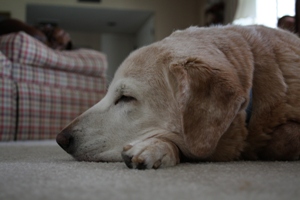 All dogs go to heaven, and Ginger is up there smiling, helping everybody get along.