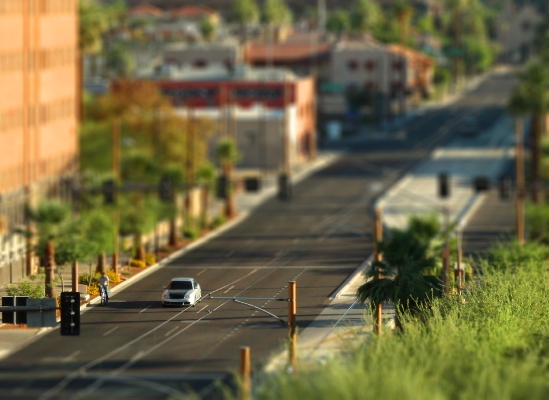 This is a real car, driving next to a real man on a real bike in downtown Phoenix. Why does it look like a toy car on a model set? Because I used a miniature faking effect that simulates a shallow depth field and fools your eyes into thinking it's looking at something up-close.
Another component of the miniature illusion is selective focus, which in its purest form is achieved with tilt-shift photography. However in this case, I faked it with Photoshop and directed your attention to the car in the picture for this miniature effect.
Not bad for a first attempt, although I should have spent more time fiddling around in Photoshop to make the guy on the bike less blurry. This tutorial made it surprisingly easy to achieve this effect.
See more photos like this in this tilt-shift miniature fakes flickr group.
Photo details:
Exposure: 1/400
Aperture: f/9.0
Focal Length: 50 mm
Taken from the fifth floor of a parking garage at 10am