140.6 miles, 13.5 hours and one of the best days of my life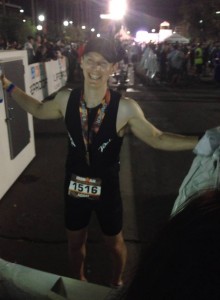 "Adam Fuller, you are an Ironman!"
I had been working hard – training, stretching, studying and strategizing – for a year to hear that phrase announced over the loudspeakers at Ironman Arizona on Nov. 17, 2013.
As I plowed through the 2.4-mile swim, 112-mile bike ride and 26.2-mile run, there were many times when I heard it pop-up in my head to keep me moving and motivated.
But when I turned down the final straightaway chute and sprinted to the finish line, I was in such an ecstatic frenzy to finish strong that I didn't even hear Mike Reilly – the voice of Ironman – yell out my name as the latest member of the exclusive club.
Continue reading Ironman Arizona: Conquered!